Falsterbo photo
art museum
Meet the founders behind Falsterbo Photo Art Museum and read more about what characterizes photography.
About the collectors behind Falsterbo Photo Art Museum
Behind the initiative are Malmö couple Claes and Christina Lindquist, who are opening their collection to the public and developing a modern photo museum and unique visitor destination in the Öresund region. The private photo collection of international caliber has been built up over 15 years and forms the basis for the museum's exhibitions. It is world-class photo art, a unique photo collection with more than 550 original photographs.
Just as it is almost impossible to define art in general, it is difficult to define Photography or Art Photography. Maybe you can put it this way:
When the photographer behind an image aims not only to reproduce the given realistic and neutral result of the object, but to try to convey a personal expression and imagery. (Freely translated and reinterpreted by Jones, Bernard E. Cassell's cyclopaedia of photography. New York: Arno, 1973)
We usually divide the photo art into a couple of main areas:
Art photographs taken by photographers (Classical Photography)
Art photographs produced by general artists
In the former category we find documentary photographers such as Garry Winogrand, Steve McCurry, Henri Cartier-Bresson and our Swedish photographers Christer Strömholm and Anders Petersen and fashion and portrait photographers such as Richard Avedon, Herb Ritts, Steven Klein, David LaChapelle, Peter Lindbergh, Robert Mapplethorpe and Steven Meisel as well as Swedes such as Hans Gedda.
In the latter category, general artists, we find artists such as Richard Prince, Gerhard Richter, Olafur Eliasson, Cindy Sherman, Gregory Crewdson and Swedish artist Nathalia Edenmont. It is common for general artists to have a professional photographer take the picture for them or to use existing images.
Perhaps a third category – antique photographs – could be added, which is a special collector's area.
The collection, the basis of the Permanent Exhibition
Almost exclusively, with a few exceptions, our collection consists of photographers' photographs. Our collection consists of around 550 original photographs, all signed, almost all numbered, produced by the photographer himself. No printed exhibition copies copied for exhibition. With few exceptions, they are handcrafted "Vintage Prints" in limited, signed editions. Many of them are unique, i.e. there is only one copy of them and most of them are in very limited editions, 2 - 15 copies. The opposite of original photographs are, for example, unsigned, reproduced images in large editions. The process of assembling the photographs in the collection has taken over 15 years.
The main part of the collection is fashion photography, but there are also portraits, photographs that count as contemporary art and documentary. For the most part, the photographs are made by internationally renowned photographers, but we have around 70 photographs of Swedish photographers.
The most famous international names are:
Edward Steichen (1879 –1973)
Steichen was a pioneer in photography. He trained in painting but began photography back in 1899. In the early 1920s he often appeared in Vouge, where his fashion photographs were groundbreaking. Later, Steichen became director of the photography department at the Museum of Modern Art in New York for many years.
Horst P Horst (1906 – 1999)
Horst was a German-born American fashion photographer and was one of the former masters of photography. Best known for his glamorous images of women and fashion, Horst posed in detail for her models in elaborate, sophisticated tableaux. His unique aesthetic can be described as a mixture of surrealism and neoclassicalism with its reverence for ancient Greek ideals and a focus on form and mystery, with a lively sensuality.
Irving Penn (1917 – 2009)
Penn was an innovator in fashion, portrait and still life photography and was one of the foremost photographers of his time. He photographed pretty much only in his studio, with a simple background, a minimalist style that was nevertheless groundbreaking in fashion photography. For much of his career he worked for Vouge, where during the latter part of his career he developed his in the style of innovative fashion images in collaboration with Vouges Phyllis Posnick.
Richard Avedon (1923 – 2004)
Richard Avedon was for many years a leader in modern photography. His work in Harper's Bazaar and Vogue in particular has contributed to a new look in fashion photography and graphic design. His advertising photography impresses with his visual elegance and as a portrait photographer Richard Avedon is among the very best in modern times. He often photographed outside the studio, with models in motion. He is represented at The Museum of Modern Art in New York, the Art Institute of Chicago, the Winterthur Photo Museum in Switzerland, and the Victoria and Albert Museum in London.
Helmut Newton (1920 – 2004)
Newton is known as a fashion photographer and for his black and white, provocative photographs published in Vogue and other fashion magazines. He is a legend in modern photography with his norm-breaking gender photographs of naked or clothed, independent and strong women. In the 1930s he studied fashion and portrait photography for Yva, one of Berlin's leading society photographers. He was frequently published in Elle and Vogue magazines. He often tried to recreate the forbidden and outrageous – famous people caught red-handed.
Albert Watson is a Scottish photographer who mixes art, fashion and commercial photography who has made more than 200 covers for Vouge. Today working in New York with a large studio. He has expressed his photo philosophy as – the bigger personality, the simpler the photo – as his images reflect a simple versatility. Watson has had solo exhibitions at the Museum of Modern Art in Milan. Kunst Haus Wien in Vienna. City Art Centre, Edinburgh.  Photo Museum in Antwerp (FOMU. NRW Forum in Düsseldorf. Forma Galleria in Milan, Fotografiska in Stockholm and Multimedia Art Museum in Moscow. His photographs are part of the permanent collections at the National Portrait Gallery, the Metropolitan Museum of Art in New York, the Smithsonian American Art Museum in Washington, D.C. among others.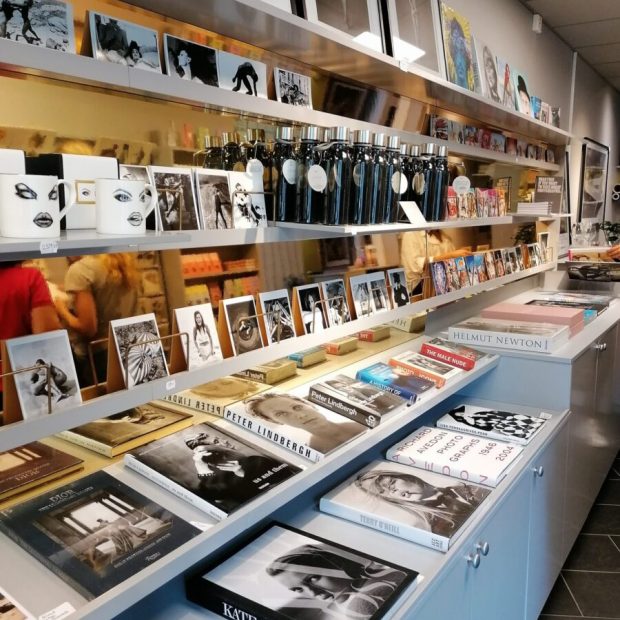 Falsterbo Photo Art Museum offers a museum shop where you can buy photo books, posters, postcards, specially selected interiors and accessories, as well as confectionery!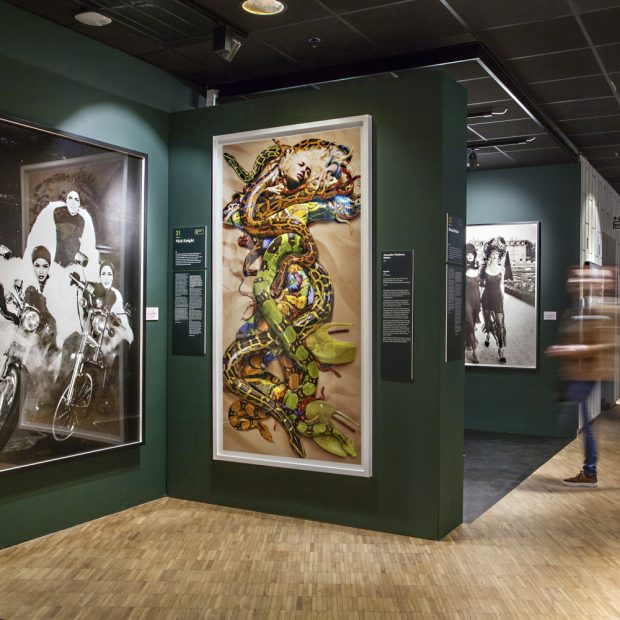 Join our guide for a tour of the museum and listen to the stories of the photographers, motifs and stories behind the images.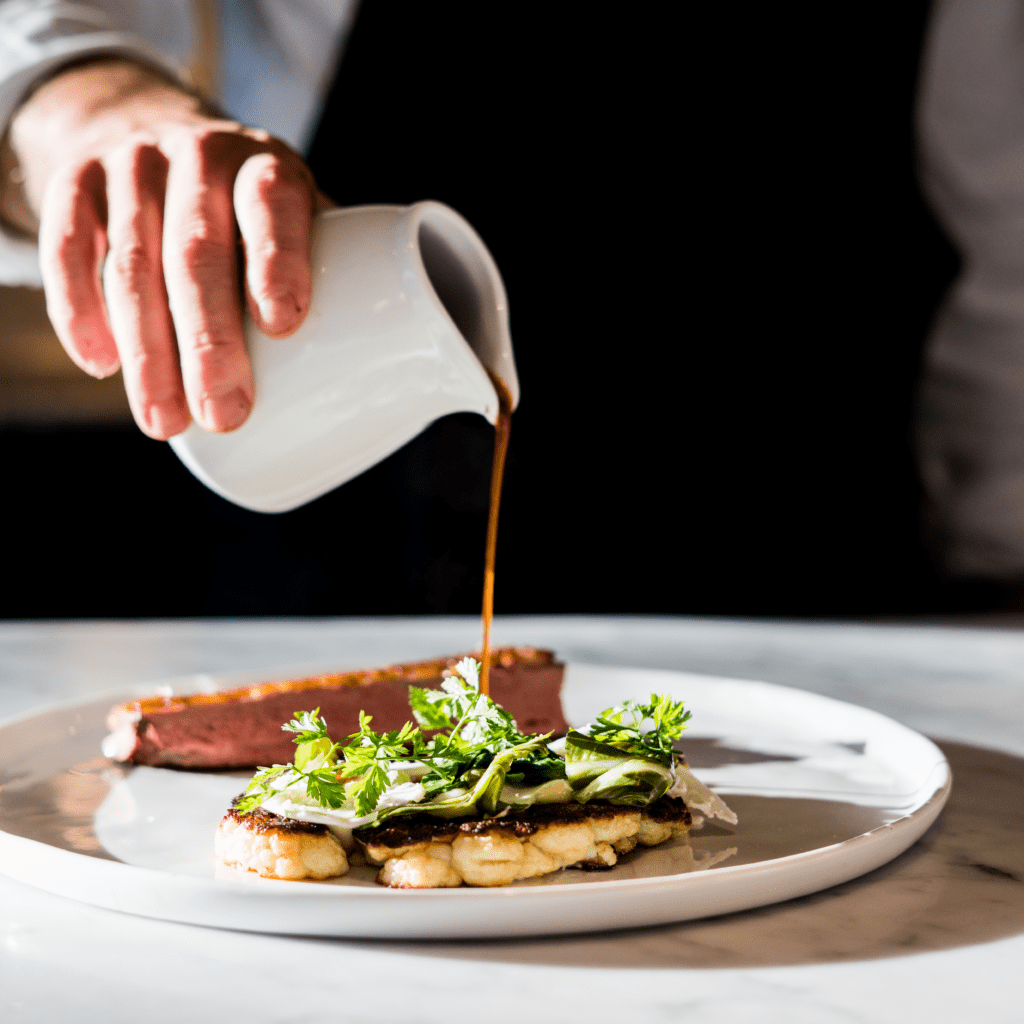 In direct connection with the Falsterbo Photo Art Museum there is Bistro Perspektiv, a high-class restaurant with café. You can visit Bistro Perspektiv without visiting the museum.
In the southwestern part of southernmost Skåne, about 30 minutes drive from Malmö and the Öresund Bridge, there is Näset with Skanör-Falsterbo, among others. Here you will find some of Sweden's most beautiful sandy beaches and unique nature with rich bird life, pine forest, heather and.