Artist Talk with photographer Camilla Åkrans Thursday 7/12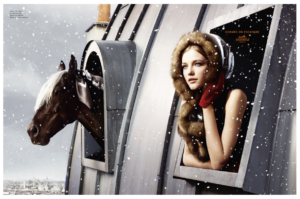 Finally, we invite you to an exciting Artist Talk with the internationally renowned fashion photographer Camilla Åkrans. It will be an interesting dialog between the owner and photo collector Claes Lindquist and photographer Camilla Åkrans where they discuss fashion photography from several different aspects. You as visitors will also have the opportunity to ask your personal questions to both Claes and Camilla. So come prepared with your thoughts!
"Sensual, feminine and animated." This was the final sentence of the motivation when fashion photographer Camilla Åkrans received the Elle magazine's honorary prize in 2019. And this is not the first time she has been awarded. She has previously been named Fashion Photographer of the Year three times by the same magazine.
Camilla Åkrans from Södertälje moved to Stockholm at the age of 16 to study advertising and decoration at Münchenbryggeriet. During her studies, she did an internship with a photographer and was inspired to pursue a new profession. After achieving success with her pictures in the Swedish fashion and culture magazine Bibel, success followed in quick succession. Camilla Åkrans is one of the few European fashion photographers to make it big in the US.
She has worked for brands such as Hermès, Missoni and La Perla, and her images have been published in magazines such as Vogue, Harper's Bazaar and Numéro, whose fashion editor calls her one of the top fashion photographers in the world today.
Camilla Åkrans says in an interview that she portrays women from the same perspective as she wants to be seen: Strong, sexy and vulnerable, but on a woman's terms.

When? Thursday 7/12. Drop-in from 17.
Artist Talk at 18 and dinner at 19.
Where? Falsterbo Photo Art Museum & Bistro Perspektiv
Price for members: Admission + Artist Talk - 150 SEK
Dinner, 2 courses + coffee & water - 349 SEK
Price for non-members: Admission + Artist Talk - 295 kr
Dinner, 2-course + coffee & water - 395 kr

Please email your booking to: boka@falsterbophoto.com
Please indicate whether you wish to attend both the Artist Talk + dinner or only the Artist Talk.
Falsterbo Photo Art Museum & Bistro Perspective
drop-IN FR at 17.00
Artist talk at 18:00
Dinner at 19:00
MemberPrice:
Artist Talk - SEK 150 Dinner, 2-course + coffee & water - 349 SEK non-members:
Admission + Artist Talk - 295 SEK
Dinner, 2 courses + coffee & water - 395 SEK